"Distinctive, creative and daring". That's how an SBS spokesperson described this year's television programs. Some of it is. A lot is much the same as last year. While the spokesperson maintained SBS programs "must remain diverse and relevant ", like all broadcasters the programs on SBS ONE & TWO will vary. However for a number, there is nothing especially 'SBS' about them. If programmed on another network it's doubtful anyone would think, "Hey, that's an SBS program!"
If you are wondering what to watch this year our sneak-peak review will help. At time of publication, SBS was not able to provide scheduling dates and times for many of these programs.
Drama
Better Man is a new four part drama mini-series based on a true story about the life and death of Van Nguyen, a 25 year old Vietnamese-Australian man who was convicted of drug trafficking in Singapore and executed for his crime in 2005.
Also included in the drama category is Lilyhammer, a Scandinavian crime series about a New York gangster who tries to start a new life in Norway after being put in the witness protection program in the US. He moves to the town of Lilyhammer in Norway, and begins a new relationship, but his past comes back to haunt him.
Series four of the Emmy award winning drama Mad Men returns. Mad Men is an American drama series set in the 1960s and focuses on a fictitious advertising agency in New York. It is a richly produced series covering the business of advertising, the private lives of the characters as well as exploring the changing face of society in America at that time.
Factual Highlights
The next instalment of the Once Upon a Time series – this time in Punchbowl screens in April 2013. This is a four part series which tells the story of the challenges which face Australia's Lebanese community. Running alongside this series will be an online documentary Cronulla Riots – The Day that Shocked the Nation.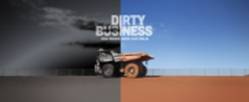 Commencing  Sunday 6 January  8:30pm is Dirty Business: How Mining Made Australia. This history series, produced for SBS by Renegade Factual, will screen weekly for three weeks. It takes a controversial look at the influence mining has had on shaping Australia in extraordinary ways. It has sparked riots, toppled prime ministers, made some people very rich and caused others to lose their land.
The first episode covers the battles and turning points in the history of the epic struggle to share in Australia's vast mineral wealth, stretching from the 1850s Gold Rush to the present day.
Episode two focuses on the relationship between business and government and the influence mining has had on prime ministers and political parties throughout Australia's history.
The final episode examines mining and lands rights and the environmental movement.
Who Do You Think You Are? also returns this year. This neat series includes studies of the family histories of Don Hany, Asher Keddie, Adam Hills, Rove McManus, Michael Caton, and Lex Marinos with two extra episodes still in production. The people and stories told are interesting. SBS continues this series because it is 'safe' programming.
SBS has also commissioned single, one-off documentaries.
Jabbed is a feature length documentary directed by renowned science director Sonya Pemberton, which examines and follows families whose lives have been altered by the global politics and fears around vaccines.
Another documentary, The Network, is an emotional but beautiful story of Afghanistan's first independent television network, TOLO TV, and the Australian family behind it.
Entertainment and comedy
Also new in 2013 is Bullet in the Face, which is dark comedy series from Canada which can be described as a parody of crime thrillers.
Back for series two is Housos, an Australian comedy series about a fictional low income housing estate called Sunnyvale. It stars Paul Fenech and Angry Anderson.
SBS will once again broadcast Eurovision from the host city Malmo, Sweden. 2013 will mark the 30th anniversary of this glamorous music event. This special occasion will no doubt bring out the best in European dance, music and colour.
Food
Culinary programs returning in 2013 include Food Safari with Maeve O'Meara who travels across Australia seeking out tasty recipes and Gourmet Farmer with your host, the former food critic Matthew Evans, who has decided to go back to basics and learn how to grow his own food. SBS also has some specials lined up with Luke Nguyen.
Shane Delia's Spice Journey is a new program for 2013 in which Shane Delia will showcase his selection of Middle Eastern cuisine.
Sports
SBS will exclusively host the 100th edition of Tour de France live in HD from 29 June. SBS will also continue to cover other cycling events including Cycling Australia National Road Championships, the Giro d'Italia and La Vuelta a Espana.
Football will be a focus during the year in the lead up to the World Cup in 2014 with FIFA Confederations Cup, the UEFA Champions League and the FA Cup Final.
NITV Highlights
Following the merge with NITV last December, SBS began showing dedicated indigenous television.
Programs to be screened on NITV include Move it Mob Style which is a dance-based youth, health and fitness program for young Aboriginal and Torres Strait Islander and non-indigenous youth alike.
An entirely Aboriginal and Torres Strait Islander team of journalists present NITV News, which is a live, half-hour news service which airs every weekday.
World famous artist Richard Bell hosts a new NITV art series called Colour Theory. Richard travels Australia exploring new and developing Australian indigenous art.
Continuing in 2013 are World News Australia, Dateline, Insight and Living Black.
For more information of dates and times to air of SBS TV programs visit sbs.com.au/schedule