Save Our SBS – friends of SBS – joins all supporters and every friend of SBS in celebrating SBS radio, television, digital and online services. We are a not-for-profit association of ordinary people defending the original special purpose of SBS. DONATE here.
SBS is providing real-time, live interpreting in multiple languages of the Victorian and NSW daily COVID-19 press conferences. How to watch the NSW press conference in your language: • Watch the daily 11am NSW press conference on television with live interpreting in Arabic on SBS TV, and in Vietnamese on SBS VICELAND. • These and other key languages are streamed live on SBS On Demand. • Daily live interpreting is also available via SBS Facebook… »
The first week of July is NAIDOC Week! The National Aborigines and Islanders Day Observance Committee (NAIDOC) has its origins in the 1938 Day of Mourning. In 1975 NAIDOC became a week-long celebration of the history, culture and achievements of Aboriginal and Torres Strait Islander peoples. Schools, government agencies, local councils and workplaces are now beginning to recognize and participate in this event. SBS invites all Australians to celebrate NAIDOC 2021 with a… »
On average, one woman a week is killed by a current or former partner in Australia* and most Australians who experience domestic abuse will never report it and their abusers will never be called to account**. SBS's landmark documentary series See What You Made Me Do explores an epidemic that has no signs of slowing. Hosted by investigative journalist, Jess Hill, and inspired by her award-winning book of the same name, See What You Made Me Do will ignite a crucial… »
As SBS is an independent public broadcaster, the government is not permitted to manage it but the parliament has the power to change the law on commercial breaks and SBS must comply with that'.… »
SBS have a daily news bulletin for new English speakers – SBS News in Easy English. It is a great initiative. Bulletins of SBS News in Easy English are read slowly using simplified language and run five minutes. Content mostly focuses on Australian news and the text of each bulletin is available on the web, app, or whatever plateform is used to listen. The idea of news in easy English is not new. In radio's hey-day, all the big broadcasters ran 'news in simple English'.… »
In its 2021 slate of original, entertaining and insightful content, SBS is featuring the network's biggest ever local commissioned content offering, with distinctive stories. This year's programs' include • Five new commissioned drama series across SBS and SBS On Demand in 2021: Copping it Black, The Unusual Suspects (pictured), New Gold Mountain, Iggy & Ace and The Tailings • New 200-episode series, The Cook Up with Adam Liaw, weeknights on SBS… »
The results are of the THREE QUESTION POLL are in. ► There are too many ads and promos on SBS. Agree: 97.91% Disagree: 2.09% Total Votes : 6753 ► SBS has too many commercial breaks disrupting programs. Agree: 97.78% Disagree: 2.22% Total Votes : 6664 ► Most in-program commercial breaks on SBS look forced or artificially contrived, and it would be misleading to describe them as natural program breaks. … »
It's illegal for SBS to exceed 5 minutes of ads per hour (promos don't count), and SBS wouldn't lose a cent if it restricted itself to just TWO BREAKS ONLY of 2½ minutes of ads per break (plus promos) PER HOUR. That'd be better than the current excessive, disruptive commercial format … »
SBS appears to have 50 percent more advertising in some primetime hours than the SBS Act permits according to a series of findings carried out by Save Our SBS from 2009 to 2020. Promos were not counted. Nor were classification announcements, community service announcements, sponsor billboards and sponsored promos. Under section 45* of the Special Broadcasting Service Act 1991 advertising is limited to "not more than 5 minutes in any hour of broadcasting". Promos do… »
COVID-19 could push over 70 million people around the world into extreme poverty – and we all need to play our part! In Australia, SBS has been informing communities on SBS Radio and in 63 languages in print at the SBS coronavirus portal. This is an amazing service. But now Save Our SBS is asking you look further afield and pledge support to End COVID For All. Many of our neighbours around the world are ill-equipped to deal with a pandemic. So it's time we offered a… »
An overwhelming majority of SBS viewers want the broadcaster to present programs for children provided those programs are fully-funded, without advertising or reliance on advertising. A total of 3,981 viewers were polled in two separate polls – one on Facebook, the other on Save Our SBS – in which participants were asked separate questions about multicultural, multiethnic, and Indigenous programs for children. The questions and findings of the Two question poll on… »
A new Chair has been appointed to SBS: Mr George Savvides AM. He is appointed for a period of five years, effective from today. Save Our SBS President, Steve Aujard said, "We have previously met George as he was the Deputy Chair of SBS for three years." SBS Managing Director, James Taylor; said: "On behalf of the Board and SBS, I'd like to congratulate George on his appointment. "Since being appointed as Deputy Chair in 2017, and most recently as Acting Chair, he… »
A government initiated Options paper proposes SBS be obligated to broadcast or stream a quota of children's TV. We'd like to hear your views. Take the TWO question poll below and leave a comment below that too. SBS is not currently required to carry programs for children but if it were, do you agree or disagree that—— More information at the Save Our SBS Australian content and children's TV on SBS – a submission to the Supporting… »
Earlier this year, a government initiated Options paper authored by the Australian Communications and Media Authority with Screen Australia considered how best to support Australian stories on-screen generally, and proposed SBS carry a quota of children's content. The communications department then asked stakeholders to comment on the options in the paper. Below is the submission that Save Our SBS made in respect of that. To enable Save Our SBS… »
Save Our SBS has long called for a total ban of all betting and gambling advertisements on SBS. The Alliance for Gambling Reform shares Save Our SBS's concerns and in its End Gambling Ads campaign is petitioning to get gambling off SBS and put community health ahead of gambling revenue. We urge you to sign the petition below. DONATE here Facebook post. Twitter post. #EndGamblingAds … »
SBS have launched a multilingual coronavirus portal. The content is produced by SBS Radio and SBS News. Save Our SBS President, Steve Aujard said, "SBS is the only Australian media outlet with information about COVID-19 in more than 60 languages. In this coronavirus era, many people whose first language is not English need SBS. "The portal site provides a single place where anyone who speaks a language other than English can get the latest updates about the… »
Apart from ease of viewing, there are many reasons to shift advertising away from programs on SBS but until now, the economic benefits have not been explored. SBS aims to inspire "inclusivity and social cohesion." That's what drives the broadcaster and this aim is articulated in its Corporate Plans, underpinned by its Charter. Despite SBS's aims, The Scanlon-Monash Index of Social Cohesion 2007‑2018 shows that social cohesion has been falling in… »
---
When the 1991 Parliament incorporated the phrase "natural program breaks" into the SBS Act it intended the placement of advertising on SBS television would not disrupt programs, that SBS not present itself like a commercial broadcaster and that "natural program breaks" would be restricted to:-
---
Save Our SBS – friends of SBS – joins all supporters and every friend of SBS in celebrating SBS radio, television, digital and online services. We are a not-for-profit association and defend the original special purpose of SBS. We advocate greater public funding for SBS, value multilingual & multicultural programs, and treasure the diverse culturally rich service intended for SBS – without in-program commercial breaks.
---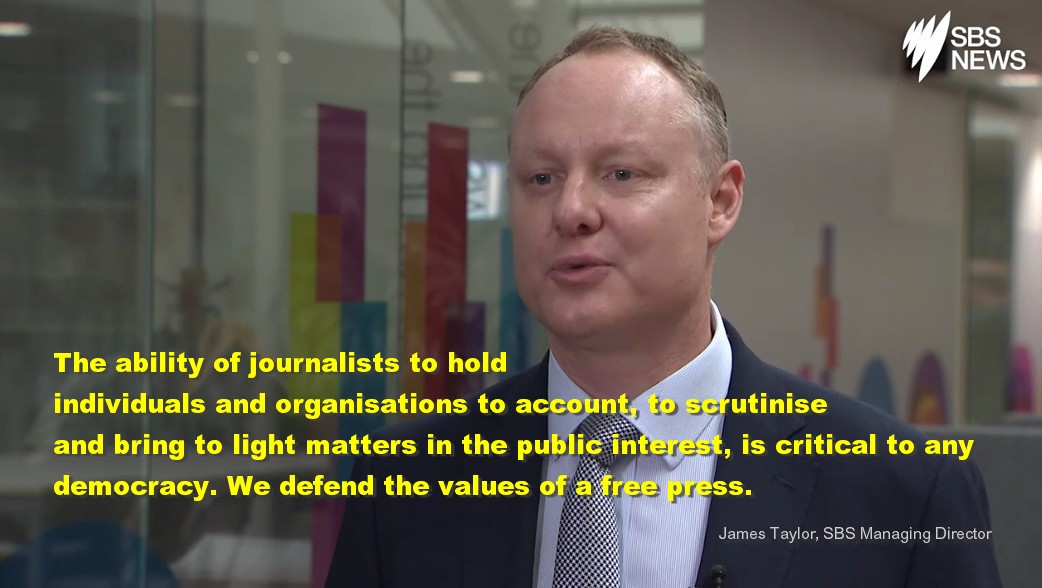 At SBS, we share the concerns of media organisations in Australia and around the world of any activity which has the potential to impact freedom of the press.

The ability of journalists to hold individuals and organisations to account, to scrutinise and bring to light matters in the public interest, is critical to any democracy and underpins the trust Australians have in our independent media.

We stand by our colleagues across the industry in continuing to defend the values of a free press.
James Taylor, SBS Managing Director, 7 June 2019
---
SBS Cultural Competence Program
---
Discover SBS Learn, home of free educational resources and a platform for teachers and students to share their work.
---
---