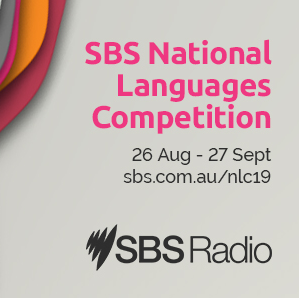 As part of its Charter educational obligations, SBS Radio is focusing on school age children, adolescents and others.
SBS Radio encourages all Australians to celebrate language learning with the 2019 SBS National Languages Competition and ask, how does learning a language make a world of difference to you?
Following the success of the 2018 competition, SBS's National Languages Competition is back.
The SBS National Languages Competition celebrates the love of language learning and language retention and is open to every language learner of all ages across Australia.
On the competition entry form SBS ask entrants to answer this simple question:-
How does learning a language make a world of difference to you?
The competition requires written answers or captions be submitted in the language being learnt, as well as an English translation (not required for English learners).
Age categories
Entrants will fall into one of the following five age categories:-
A drawing with caption (up to 30 words)

Category A: Junior Primary (Aged 4 – 7)
Category B: Primary (Aged 8 – 12)

An essay (up to 100 words)

Category C: Junior High School (Aged 13 – 15)
Category D: Senior High School (Aged 16 – 18)
Category E: Open (Aged 18+)
The competition closes on 27 September this year, is free to enter with prizes to be won.