Today, Independent Senator Nick Xenophon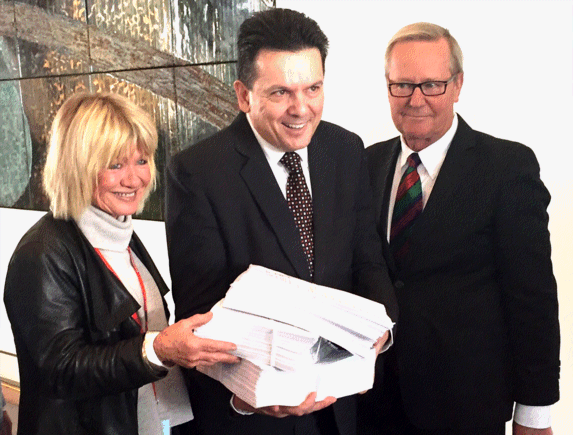 received from Margaret Pomeranz (left) & Quentin Dempster (right) the Save Our SBS petition of 62,000 SBS viewers who do not want the law changed to double primetime advertising. The Bill, which allows product placement in SBS programs, would result in 14 minutes of commercial breaks per hour 6pm to midnight and in sport.
Last Tuesday in the House of Representatives Minister Turnbull defended his Bill saying it was a recommendation of the efficiency study that advertising flexibility be given to SBS. However Shadow Minister Jason Clare said page 85 of the study argued:
… there will be greater pressure on SBS management to consider the trade-off of delivering on commercial expectations, against delivering those functions described in the SBS Charter.
Mr Clare said, "Even the government's own efficiency review points to this as a concern. What about SBS viewers? The fact is it will mean more ads when people are watching TV—more ads during prime time."
Mr Clare referred to the petition: "[Those] who signed this petition do not want more ads on TV when they are watching their favourite programs."
But last week and three days before the communications committee released its report into the Bill, the Communications Legislation Amendment (SBS Advertising Flexibility and Other Measures) Bill 2015 was passed in the House of Representatives. The outcome was determined along Party lines. The Senate is yet to vote on the Bill.